Can You Be a Feminist and Still Watch The Bachelor?
Can You Be a Feminist and Still Watch The Bachelor?
I most certainly identify myself as a feminist. I also love to indulge in every spinoff in "The Bachelor" franchise. "Bachelor Pad," "Bachelor in Paradise," "The Bachelor," "The Bachelorette" and their respective Canadian and Australian counterparts -- I've seen them all.
After much research, I found that one can almost continuously watch women and men compete for their very own fairytale ending without getting tired of the format. My friend Caitlin Curtis, the artistic director of the Canadian Theatre of Improvisation and Bachelor Superfan, described it as "Nicholas Sparks without all the death (usually)."
There's nothing inherently feminist about the premise or the execution of the show in any way. Your average season of "The Bachelor" will feature a healthy dose of pitting women against each other, a lesson on the practical application of the virgin/whore dichotomy, reducing women's success to their relationship status, referring to children as 'baggage', slut-shaming, and heteronormativity. You know, all in the first episode.
I'm not alone -- there were more than a few feminists who outed themselves as fans of the show. But how can we reconcile our love for the drama with our feminism? Seven ways here:
It Reminds Me That Chimamanda Ngozi Adichie Was Right
"We raise girls to see each other as competitors, not for jobs or for accomplishments, which I think can be a good thing, but for the attention of men."
In her TED Talk, now immortalized by Queen Bey, Adichie explains why we should all be feminists. One of those reasons basically encapsulates the entire concept of The Bachelor. Ouch -- point taken. I never need to be reminded to pick up any of her work, but reflecting on that talk after an extra catty episode is a welcome one.
The Feats of Strength
Honestly, the women on this show are some tough babes. I tune in every week to ensure that none of them have collapsed under the weight of their increasingly beaded/bejeweled gowns. By the final rose, their dress has gotta weigh at least 50 lbs.
It's Escapism
Walking around all day with your brain subtly decoding and deflecting sexism, dealing with trauma, living in a rape culture -- and all of the general ennui that comes with being a woman in this culture in this time -- can sometimes be heavy for a feminist.
Melissa, a journalist/sports reporter says, "[The Bachelor is] packed in all of this gaudy sensationalism: the drama, the fights, most of which are manufactured or at the very least heavily contrived. But underneath those trappings, it takes us back to this very innocent period of time in our lives. Back to when love was an all-consuming objective in and of itself, its own means and ends."
It's an Excuse to Drink
Modify to reflect any season's bachelor/ettes and this drinking game provides a night full of good times. I don't always need an excuse for evening libations, but when I do, I like to drink for "the right reasons".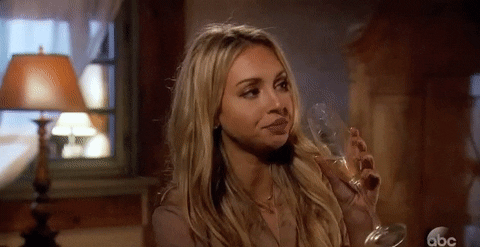 It's a Practice in Liking Problematic Things
Naajiyah, a PR student, explains: "No feminist is perfect, because the cause isn't something that is standard, objective, and static." "The Bachelor" is a reminder that we can like things that aren't huddled under the umbrella of 'feminist culture' -- it's okay to watch what we want (with a critical eye, of course).
As Melissa says, "[...]if I was going to restrict myself to only entertainment that was ideologically pure and without problems, I'd basically be stuck lying on my bed reading Zapatista dispatches by candlelight every night."
It's a Good Reference Point for Talking About Feminism
Not everyone knows who Audre Lorde is, but I guarantee a majority of the population can at least understand the format of "The Bachelor." By being knowledgeable, it creates a link and accessible reference points to be able to engage on issues -- like why men ask a woman's dad to marry her and the commodification of women.
It Reminds us That Women's Experiences and Lives are not Homogenous
Instead of making fun of Andi Dorffman, a former Bachelorette, for her choice to quit her job to be on the show, it's a point for reflection on what it means for women to have choices. "I remind skeptics of the show that some people really do just want to get married and settle down and have families and that it is ok to want those things," says Caitlin.

Naajiyah even went so far as to say, "What's more destructive [than watching The Bachelor] is feminists targeting other feminists for their praxis, just because they don't see eye to eye. A guilty pleasure does not make somebody less of a warrior for their cause -- we are only human." WORD.