J.K. Rowling Reacts To Neville Longbottom In Underwear, And It's Perfect
J.K. Rowling Reacts To Neville Longbottom In Underwear, And It's Perfect
Remember Matthew Dave Lewis, a.ka. Neville Longbottom, from the Harry Potter movies? The awkward, adorable kid who just couldn't remember anything? In case you've forgotten (how could you!), let this jog your memory: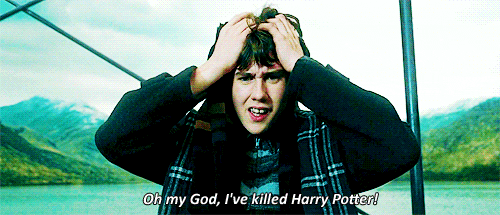 Well he's all grown up now, and recently posed for Attitude magazine's June 2015 cover.
The summer issue also included an underwear snap of the boy (now man!) wizard, and an interview where he says that even though he enjoys his new heartthrob status, he "never considered [himself] to be good-looking at all. Just average." 
Brb, swooning at his perfectly-modest sexiness.
This all proved a bit much for one of his long-time fans, however. After getting an unexpected eyeful of Lewis's pecs and abs (and other acoutrement), J.K. Rowling tweeted to Matt: 
Resulting in this adorable exchange between the two:
Jason Isaacs (Lucius Malfoy) also chimed in on conversation on Twitter, saying "Surely Neville Pertbottom now?" To which Rowling responded "I wouldn't know because I hastily averted my eyes and read an article on political correctness."
Can we just say we adore Jo mom-ing out on her Neville? It's great to see her checking in with the Potter kids regularly to show her support, regardless of the fact that she might not always understand their decisions.
Matthew Lewis is currently starring in the TV series Bluestone42 and will be in the upcoming romantic drama Me Before You with Emilia Clarke (in case you want to keep, ahem, an eye out for him).