Five Tips for a Picture Perfect Selfie
Five Tips for a Picture Perfect Selfie
According to self-described selfie queen Ashleigh Izdebski, the photos we post online should be fun, creative, and express a kind of confidence that says, "Like me or not, I don't give a f*@k!"
If you've ever tried to take a selfie only to end up, 30 minutes later, with over 200 horrifying photos, no room left on your camera and far less self-esteem than when you started, then read on.
"The idea is to post whatever makes you happy," says Ashleigh who currently has over 1,190 pictures on her Instagram account, mostly of herself. 
Until recently, the 33-year-old real estate agent & blogger had a high profile boyfriend who ridiculed her selfies, and the amount she'd share. He even tried to control the images so as not to reflect negatively on him or his career. After they parted ways in 2016, she says taking selfies and posting them on Instagram was an emotional outlet and it's been beneficial for business, too!
"I am still growing but I have a better sense of what I am capable of and the lines of which I know I can and cannot cross," says Ashleigh, who lives and works in Cobourg, Ontario. "I bring something different to the table without ever compromising my professionalism."
In celebration of World Selfie Day, Ashleigh shares her top five tips to help you take your next selfie to the next level.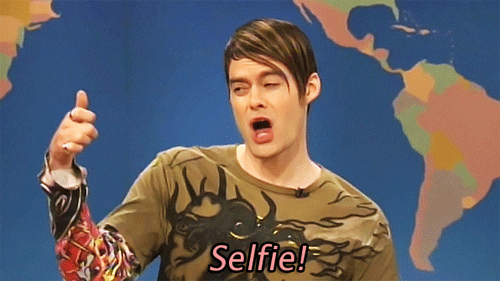 Respect Yourself
"A selfie doesn't mean you have to be sexual or provocative. Keep in mind no one wants to see your face every day, no matter how gorgeous it truly is! You will become redundant, even among your own followers, close friends or not. Often I am projecting an image of self-confidence which I think is incredibly important. I am showcasing myself as an image positive individual and I don't seem to lose followers because of it."
Be Creative
"Showcase bits and pieces of yourself and be cool without embarrassing yourself or being repetitive. Give your followers something to catch their eye. If it's just your face every day it will blur into everything else. Getting ready for a date on Friday night? Do a Thursday night photo shoot! A picture of your feet in a pair of cute Mary Janes can go a long way! Keep your followers wanting more."
Lose the Duck Face
"I have never done it, and to be honest, I have never quite understood it. My lips without smiling have a natural pout, so if I take a selfie without smiling it looks like I am pouting. However it still doesn't look like a duck face. I don't know why people do it. What do those lips mean? Do something else."
Use an Editing App
"Face Tune is a life saver! I use Adobe to take the photo and Facetune for its editing suite. Depending on the picture I use different effects and filters, I've  learned not to overuse blur tools and try and keep things as natural as possible. I also find if you face a window, you'll be surprised how wonderful natural light can work in place of an editing app."
Know Your Audience
"If you share work-related material on Twitter and Facebook, reserve your selfies for someplace else, like Instagram. I have received requests from colleagues trying to cross over into my Instagram and I have never thought twice about turning them down. Our privacy—online and off—is paramount. Watch your followers and keep on top of your settings. Ask yourself what your selfies mean to you. Ask yourself what self-respect means to you."