5 Signs It's Time To Leave A Relationship
5 Signs It's Time To Leave A Relationship
Tears ran down my chin and hit the floor. When you live in a 400-square-foot apartment with a man who brings you to your worst, the odds that you've cried pretty much everywhere by now are pretty damn good. I heard movement and stopped dead in my tracks — hearing his nearing steps has become a remixed version of the Jaws soundtrack.
He paused, then punched something hard in the other room and cursed. I stopped breathing altogether, even though I knew he knew where I was. Perhaps if he thinks I've died he'll leave me alone. Just as my world without oxygen began to sway, the heavy steps resumed, but got quieter until I heard the sound of the front door close. I breathed, I relaxed and let myself cry some more.
A few hours later, the fight had blown over, but the trauma still presided. He watched TV in the common area and I walked passed him into the bedroom holding an armful of laundry as my alibi. I dropped the pile on the bed and grabbed the bathrobe to hang it on the back of the door — the perfect excuse to shut him out of this space. I pressed my forehead against the wood until it clicks. I'll admit it; I cried again. I am not one of those women who would dare swear up and down that my water does not work but this… this is a new concentration of over-brimming sorrow. And please, don't get me wrong — I am not in an abusive relationship nor am I enslaved to a tyrant. I am simply a woman trying to love and be loved by a man who possibly hates me, possibly just as much as I hate him.
I wrote this very short story three years ago. If you can relate, then I'd like you to know I don't pity you; I am proud of you. There is nothing more pure than fighting for love. Today I am single, though it took me two years after writing the above to fully be rid of that relationship.
With that being said, here are 5 key signs to know when it's time to call it quits.
1) You are looking for a sign
If you sought out this article, spend a lot of time scrutinizing the match-making section of horoscopes, scour your hubby's social media feeds for any signs of infidelity or have taken more extreme measures, then maybe it's time to admit that what you're looking for is an out. Fortunately, relationships are not unionized jobs and there is no such thing as wrongful termination. If you are looking for a reason, then that alone is absolutely reason enough.
2) You spend 80 per cent of your time in the red
We all know the saying "love is hard work," but we're also familiar with the phrase, "when you love your job, you will never work a day in your life." The truth about the relationship between love and work lies somewhere in the middle. Yes, there will be periods of strife and trauma, but that is not the hallmark of a good match. When it's meant to work, it will work the vast majority of the time, plain and simple.
3) You've lost the best parts of yourself
The nervous system operates on two settings: fight and flight or calm and connect. When we are in fight/flight mode, it's because we feel under attack. It's impossible to be our rational, charismatic, reasonable selves. A relationship that constantly has your nervous system on red alert is not only not good for your health, but it's also extremely difficult on your partner. When you've lost the best parts of you, it may be time to take a step back and find them on your own again.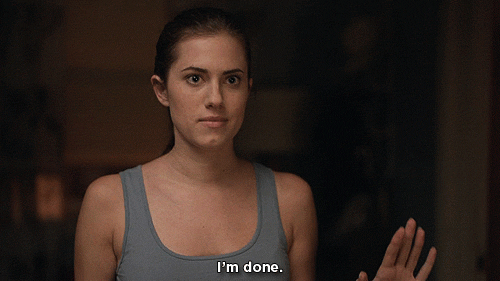 4) Their good news irritates you
Gone are the days of jumping for joy for one another; you're far too busy at each other's throats. When everything feels like a personal attack, it may be time to let it go. When we first fall in love, we experience great growth and inspire growth out of our partners, but when love is kept past its expiration date, the exact opposite ensues — jealousy, minimization and destruction.
5) You are happiest when you're with others
Pay close attention to these words: I am not saying you are happiest apart, because the addictive nature of love can initially cause deep depression through separation, especially when we find ourselves suddenly alone. However, when you are fully present around others — your friends especially — are you happier? Is this the "you" that you love the most? The one you wish your lover evoked and basked in? If the answer is "yes," then it is time to give yourself a fighting chance at complete happiness, and possibly with a completely new partner.