6 Methods for Preventing Chub Rub
6 Methods for Preventing Chub Rub
The thigh gap craze has never made much sense to me. Except, of course, between the months of June and September, when "chub rub" conspires to destroy my carefree summertime frolicking at every turn.
A quick lesson for readers whose thighs do not touch: chub rub is when thighs repeatedly grind up against each other in hot and humid weather. Massive discomfort and burning agony from chafing ensues.
Chub rub is a scourge and a curse. Chub rub is rampant. Chub rub is real.
I've been a chub rub sufferer for years. I finally decided it was time to figure out a way to rock frocks every day without cursing the girth of the strong, lovely legs that carry me around every day. So I donned my favourite sundresses and tested out a number of different solutions on the market.
Here, for your future inner-thigh comfort, is the chafing dish:
Baby Powder
This worked for all of 10 minutes. Baby powder is fine for a quick fix on cooler and less humid days, but when the going gets sweaty, forget it! It's messy, ineffective and re-application is a hilarious nightmare. Also, it also got all over my clothes and my mom asked me why I smelled like a baby prostitute.
These puppies are definitely the sexiest of all of the anti-chafing options out there (who says the concepts of "sexy" and "anti-chafing" can't go hand-in-hand?). Bandelettes are essentially lace garters worn high up on each thigh to protect them from, well, themselves. They do a decent job and actually do look pretty hot, but the texture of the floral lace felt weird when I really got going on my walk. It felt like my thighs are attempting to communicate in braille. Other than that, these things are a pretty good time! I'm not the sort who wears lingerie every day, but I could see myself rocking Bandelettes on the daily in the summertime. I'm sure that my boyfriend (if I had one) would be thoroughly aroused by this combination of flirty sexiness and wise practicality. I'm the perfect woman.
Monistat Chafing Relief Powder Gel
I first read about the blue tube of miracles on the internet. Its ingredients are nearly identical to an expensive cult beauty product, so just a dab of this powder gel kills "nose shine" in a nanosecond. And of course, it's an amazing chafing barrier. Unfortunately, I couldn't find the product in Canadian stores, so I bought a few packages from eBay and I'm now downright fanatical about it. Monistat Chafing Relief Powder Gel goes on as a gel and dries to a soft powdery finish that keeps skin smooth, dry and protected. Reapplication is necessary on really hot and humid days, but this stuff usually lasts for hours. As an added bonus, look at how matte my nose looks, you guys! What is this magick? What is this beautiful sorcery? Monistat, please bring this product to Canada and take all of my money!
Body Glide Anti-Chafing Balm for Her
The moment I slicked this stuff onto my inner thighs, I knew it wasn't going to work for me. Body Glide goes on a little tacky, like translucent stick deodorant. It's smooth, odourless and naturally derived, which is great, but the slightly sticky texture just ended up adding more friction to my walk. That said, Body Glide created a thin, protective barrier on my skin so that painful chafing never became an issue, but it didn't feel particularly good or comfortable where skin met skin. This stuff seems ideal for divers sliding in and out of wetsuits or for cyclists and long-distance runners to protect their skin from the constant rubbing of shoes or fabric, but it isn't the best combatant in the battle against chub rub.
Wear Culottes
When the humidex is off the charts, tight jeans are not okay. In fact, pants should not exist between the months of May and September! I was insanely uncomfortable. (No chafing, though!) Culottes are the perfect comprimise when you want to cover your legs, still look fashionable while feeling comfortable. Culottes are wide, cropped pants in a breathable fabric and they WILL be your new BFF this summer.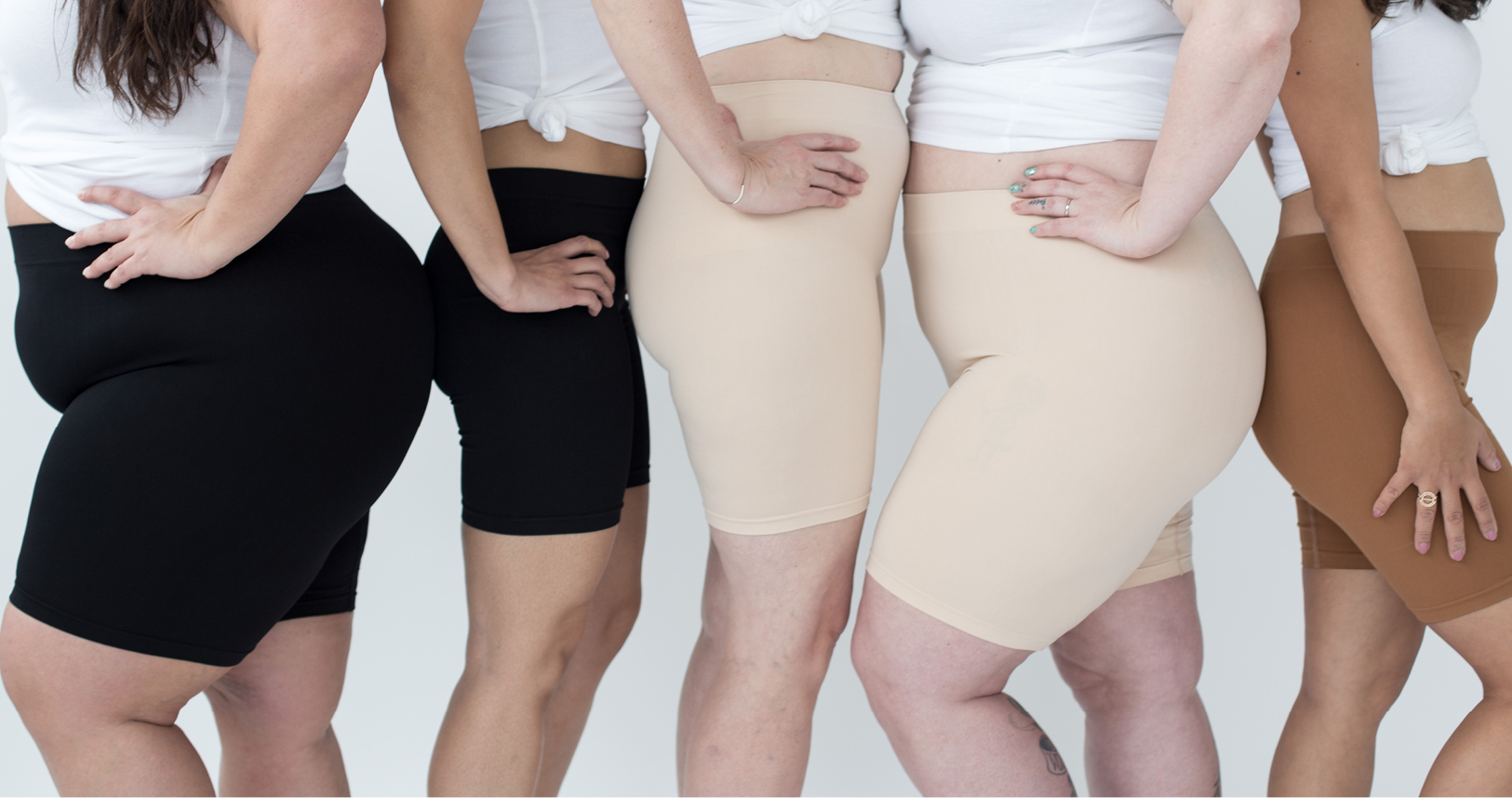 Made in Canada and created by Toronto's Marnie Consky, wearing Thigh Society's lightweight undies feels amazing for many different reasons. They're locally made, of course. They company is mindful of the environment by reducing excess packaging. And then there's the way they treat my thighs. This is the way freedom feels, friends! Thigh Society's chafe-protective undies are glorious, lightweight, luxuriously soft and don't make that "snowsuit sound" that regular bike shorts can sometimes make under sundresses. They're so supremely comfortable that halfway through the day, I've completely forgotten that I'm wearing them. Thigh Society's tagline is "Breathe a thigh of relief." I do and I have. In fact, I'm about to buy a pair for every day of the week. After all, who needs a thigh gap when you can be a part of Thigh Society?